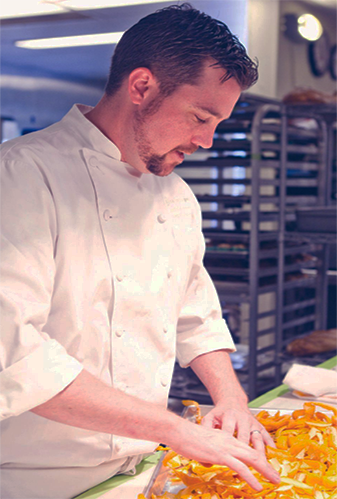 Wood and Perle was founded in 2018 by Chef Justin Everett, an acclaimed tastemaker recognized for inspired innovation, energetic leadership, and high-level execution.
Justin has a proven track record of building topflight hospitality operations and strategically focused menu development in the San Francisco Bay Area and California Wine Country. Wood and Perle was born from his passion for creative collaboration and the unmatched satisfaction of providing a truly memorable guest experience.
Upon graduating from the LeCordon Bleu College of Culinary Arts Portland, Oregon Justin returned to his native California and began working with some of the worlds most renowned chefs. Early in his career, Justin was mentored within the Auberge du Sole & Thomas Keller Groups. In 2005 he opened The EDK restaurant in Sonoma CA, with a group of French Laundry alumni. There he gained numerous awards and accolades, including "Best Chef of Napa / Sonoma", Michelin Guide Recommendation, and 944 Magazine's "Most Buzz-Worthy Chefs in America". In 2010 Justin became a featured Chef at The James Beard House in NYC, and annual L.A. / Pebble Beach Food & Wine events. shortly wanderlust set in and Justin set off to Europe, working in Michelin decorated Spanish and French kitchens.
Upon returning, Justin became Executive Chef of one of the Bay Area's top culinary destinations, Cavallo Point in Sausalito, CA. Here, Justin and his team developed a world-class food culture centered around innovative cuisine and sustainability.
Justin has always felt a strong dedication to social responsibility and in 2013 he Co-Founded the Conscious Kitchen, a program that transitions school lunch programs from unhealthy, overprocessed food, to clean from scratch meals, prepared by chefs. Its goals are to ensure children have access to healthy, nourishing food, thereby promoting healthy lifestyle choices, and reducing obesity and diabetes.
Justin also serves on the board for Farms For Life. A Washington based organization facilitating food access to underserved communities while supporting the farmers who grow it.
With local, national and international experience in the hospitality industry - we know how to get it done or know someone that does. Our connections cover every facet of the restaurant world. It's our commitment to success, and ability to perform that brings the value that our clients expect.